Alaska Fishing Guides
Our guides are experienced and knowledgeable. We rate above proficient in all aspects of all styles of fishing. We live to catch fish, and would love the opportunity to offer a few tricks of the trade or our favorite fly. Our guides are coast guard licensed, hand picked professionals specializing in finding and catching Trophy pike and Sheefish.

Scott Rowekamp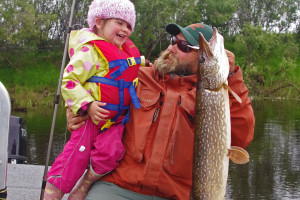 Guide / Owner
Scott's true passion is to fish in remote areas. He is a licensed guide, holds various high level white water rescue and EMT certifications. Fishing, camping and the outdoors have been a part of his life since he can remember. When he is not guiding the Yukon, he is skiing with his family in Girdwood Alaska. Professionalism is his number one priority, ensuring that your Alaskan experience will be remembered forever.
Guide Internships:
Come and gain experience and possible employment. Learn everything needed to be a professional Alaskan fishing guide. Everything from knots to cooking over a camp fire will be included in our training. Internship positions can be used for college credit.