alaska fishing trip accommodations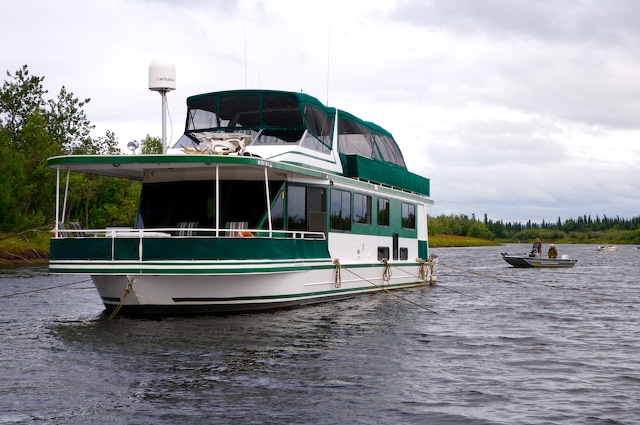 Midnight Sun House Boat
Midnight Sun provides a fully guided trip in Western Alaska on one of the Yukon's largest tributaries. Your trip takes place aboard our beautiful 67 x 16 foot houseboat called the 'Midnight Sun'. Providing a new twist to sport fishing in Alaska; this boat is designed with all of the creature comforts and modern amenities for up to six guests per week. The boat has three staterooms, each sleeping two guests. Each room is set up with two twin beds, reading lamp for each bed and storage for clothing and personal items. There are two bathrooms providing full shower, sink and commode facilities which are shared by all guests.
Meals are hot, hardy and homemade. After a long day of fishing, you are met by appetizers and refreshments. Pork loin, roasted chicken, pasta, salmon (when available) and steaks are cooked to you liking. Breakfast is made to order and consist of traditional American offerings. Lunches are large deli style sandwiches that are sure to hit the spot. Most fishermen end up leaving with a few extra pounds.
Our trip is set up for six guests per week to ensure not only successful fishing but a memorable and enjoyable trip. Midnight Sun offers its guests maximum care and service with our schedule arranged to provide personal attention to every guests. The lounge and dining areas encompass the forward half of the boat and provide ample room to stretch out, relax and exchange the day's fish stories. The lounge area is equipped with CD stereo and DVD player. The fore and aft decks are both covered and set up to enjoy a relaxing afternoon. The upper deck has a fully covered and screened in 45 x 16' area creating a lot of space for those wanting to enjoy a bug free quiet drink and watch Alaska's midnight sun skirt the horizon.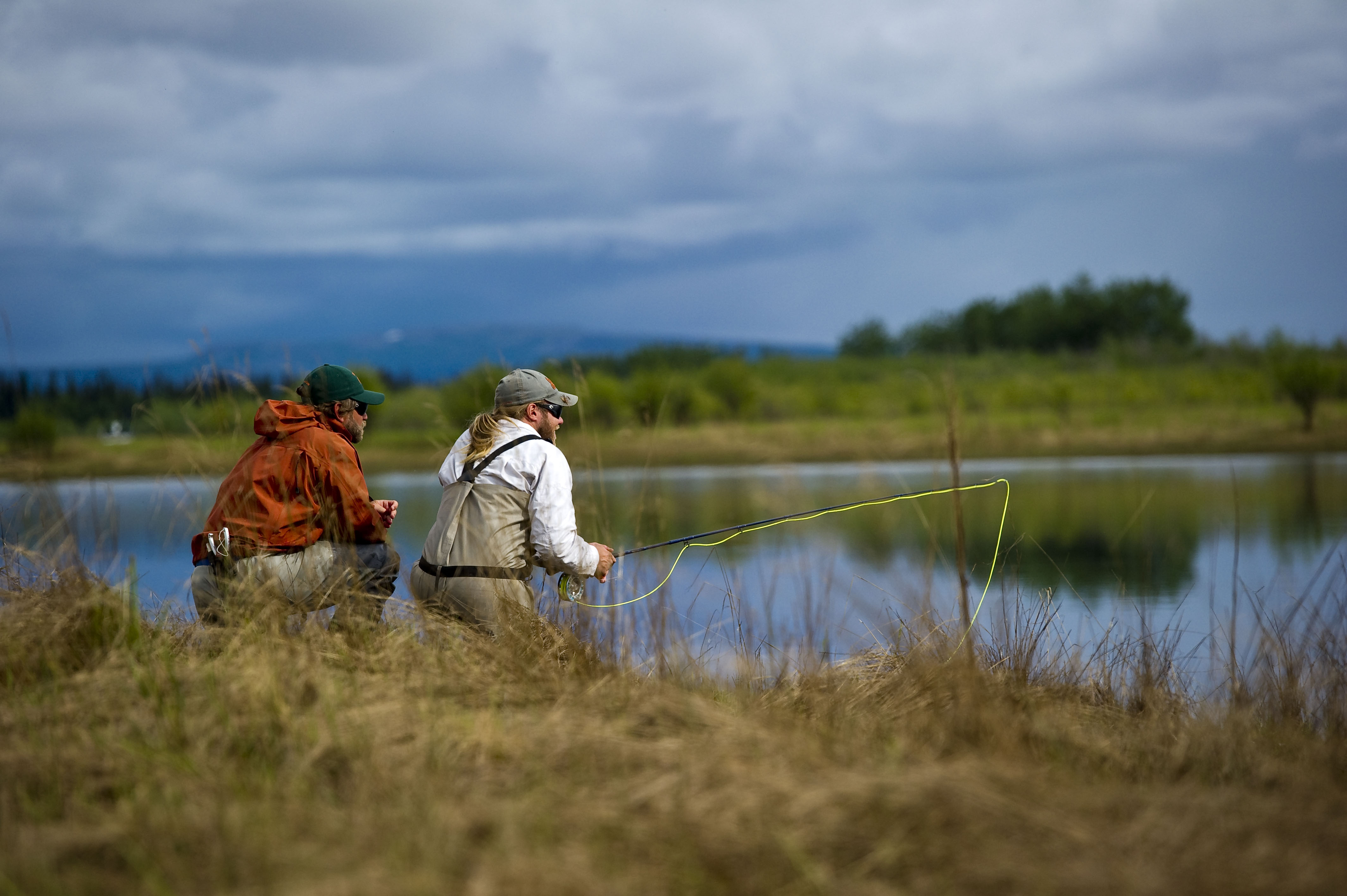 Yukon Guided Tent Camp Accommodations
Due to the true vastness of our fishery we are able to provide guided tent camp for our more adventuresome clients. Located in even more remote areas of the Yukon drainage, the ability to fish in areas that have never seen a fly or lure has never been more real. Large cabin tents with cots are provided per every two anglers. The cots ensure that no mud will get in your way of a perfect nights sleep by the river. Meals of equal quality to the house boat including steaks, are cooked and served in a screened-in tent with dining table and chairs for home like comfort. After dinner you can take a hot shower to clean off before sitting down to a nice warm fire. Fresh cold drinking water and lavatory facilities complete the perfect Alaskan fishing camp. Groups of four are optimal. Sleep peacefully at night to the sounds of nature and see pike takes during the day that are jaw dropping.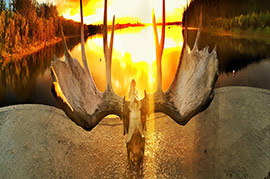 Unguided Moose Hunt
Come and enjoy the wild Yukon river and let us put you into some of the most productive moose hunting available in Alaska. We now offer transport only unguided moose hunting options.