Yukon River Pike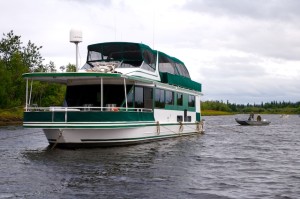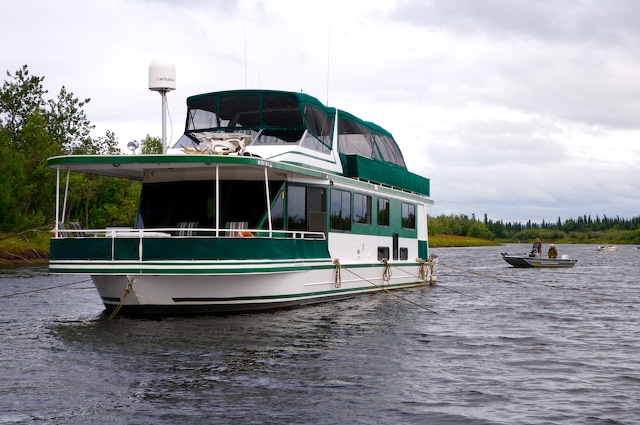 The Midnight Sun House Boat ($4200 per angler 5 day trip)
From the Midnight Sun you will board our smaller 18 ft custom built skiffs outboard engines. These boats are equipped with the latest in electronics, remote-control trolling motors, huge casting platforms and pedestal seats. There will be two anglers and one guide per fishing boat.
Based off of water temps, bait, wind direction and forage your guide navigates the many miles of river to find your monster pike. Weed beds, sloughs, submerged island and points are just a few places a well placed lure could be rewarding. Top water fly fishing, giant flies even giant rubber swim baits are all tactics used on the Yukon's giant tackle crushing pike.
The greatest part about Yukon pike fishing is the 50" monster could literally be any cast.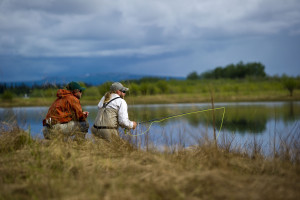 Remote Guided Tent Camp ($3500 per angler 5 day trip)
Due to the absolute vastness of the river system guided tent camps are another way to experience the magnitude of the Yukon drainage. Utilizing large tents, cots, cook tents shower and lavatory facilities, fresh drinking water and with hearty food your base camp will give you access to areas even more rarely fished. Set up for the true adventurer, this tent camp moves every two weeks in order to explore new areas. This gives the angler the true ability to fish areas that have never been fished before. The camp has a powered skiff to assist in transportation from area to area. Oar framed rafts are used as the fishing vessels. Comfortable and stealthy the guides will tow and row you into a true remote experience.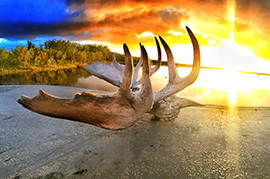 Basic Moose Hunt Package (7 days $3000 per hunter)
We will transport you and your gear to previously selected sites. This is transport only. All other gear will need to be provided by you.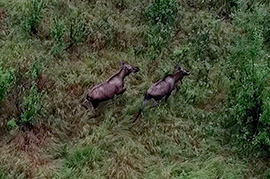 Standard Moose Hunt Package (7 days $5500 per hunter)
We will transport you and your gear to previously selected sites. This package includes tents, cooking gear, satellite phone and food.

Deluxe Moose Hunt Package (7 days $8000 per hunter)
The Deluxe Package includes lodging and all meals prepared on the house boat. Every day of the trip we will drop you off and pick you up from your day of hunting. Satellite phone will also be provided for emergency use. You will have full access to the midnight suns facilities.